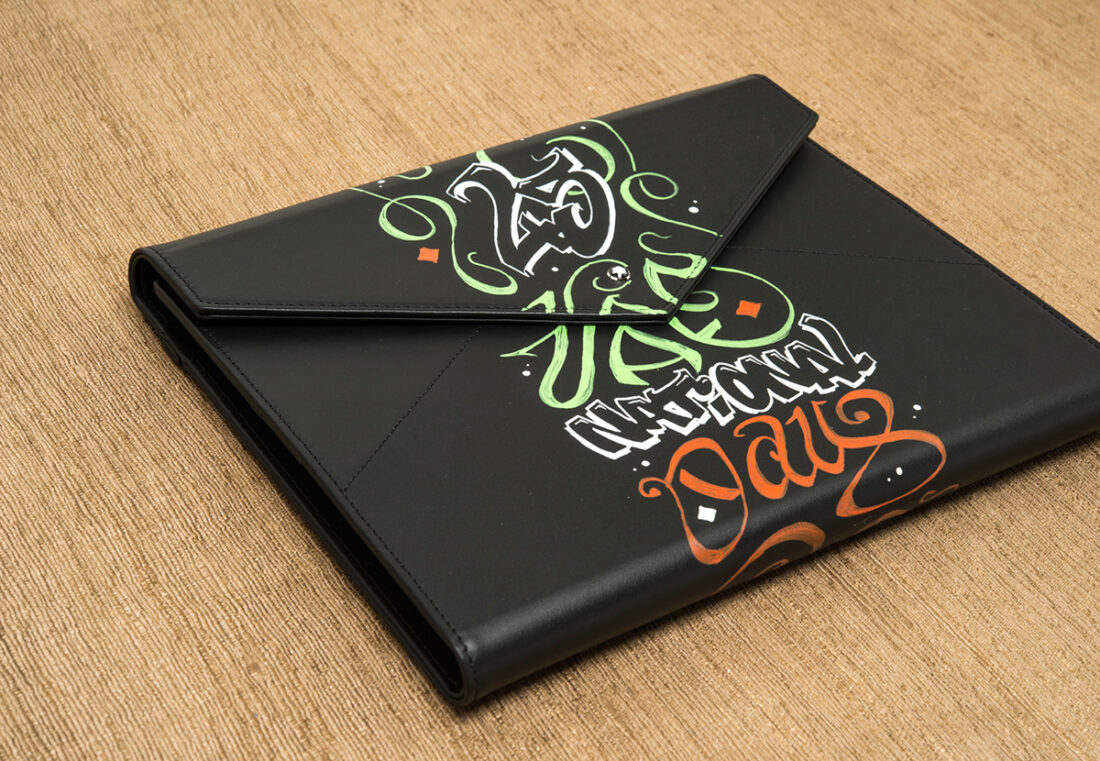 UAE National Day 45 years
I remember this period which was very intense in discoveries and experiences. I was starting to be very much requested to make customizations of small leather goods, especially by the Montblanc brand since the launch of the Montblanc Urban Spirit collection. Just after the first event in Paris where I was present to draw live on leather at the request of the guests, I was asked to intervene in particular on a product that the brand wanted to promote more particularly at this time: the Augmented Paper. I have already mentioned and presented the limited series of these pieces that I made by hand, the purpose of which was to illustrate the collaboration between Montblanc and the famous London store Harrods. A few weeks later, I was asked to work on this same product but for another region, the UAE.
My first contact with Dubai and UAE, which will become my HQ
I still remember when I imagined a design to celebrate the 45th anniversary of the independence of the UAE (United Arab Emirates). I knew absolutely nothing about this destination and I guess I had a lot of fantasies and an imagination that any European could have from the Middle East. What I did not know was that I was going to have to go many times precisely to personalize leather during events or for limited series. I was also far from imagining that I was going to meet many people on the spot to weave bonds of friendship and finally less than 10 years later decided to settle down with my wife and my children to develop this activity there and open a new chapter in my « career » in UAE.
A modern calligraphic illustration with touches of tradition
As had been the case until now and it is always pleasant as an artist, I was very free in my creative choices for this illustration. The only elements that had been more or less imposed on me were the text content that made up the creation and possibly the colors that were to recall that of the flag of the United Arab Emirates. But for the rest I could do whatever I wanted. I wanted to work in line with what I had been able to offer during previous projects with Montblanc. That is to say a fairly modern style with "urban" inspirations but with a touch of Arabic calligraphy, more linked to UAE culture. In any case, a stylistic reminder of this calligraphy that I have little control over. Regarding the composition, I kept the same principle of central vertical band that had proven itself in the past.