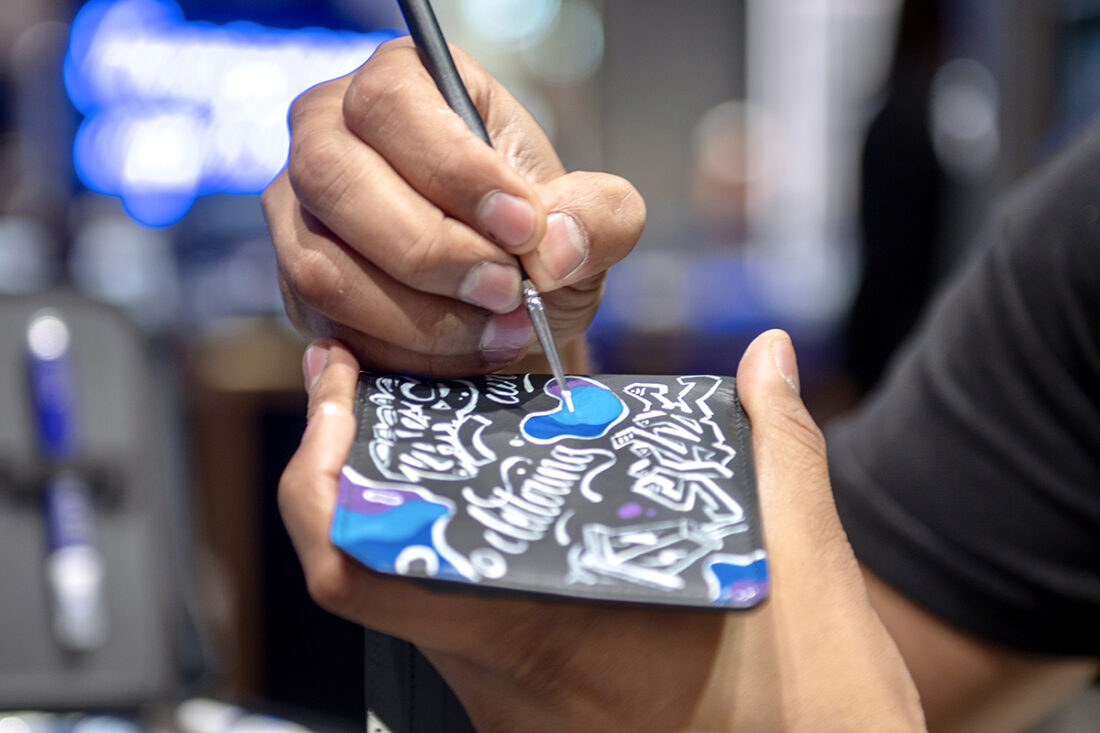 Artistic Leather work demonstration
There are many configurations where brands ask me for live leather customization. The two most recurrent situations are widely visible on this site. In some cases, these are event evenings where the organizers wish to offer personalized gifts to their guests. And in other cases, it is often longer time slots where a "custom space" is set up in store to allow customers who have just purchased a product to personalize it directly. This project is close to the second configuration even if the "demonstration" aspect had a higher importance. My personal space to create Artistic Leather pieces.
In the workshop of the leather Artisan
Visualizing an artist or craftsman working in front of their eyes can help to accentuate the "handmade" side of the products sold. These are configurations that make it easier to realize the quality that is implemented to satisfy customers and therefore bring more value to the brand image. This was one of the objectives of my presence these few days in this Montblanc sales space where particular care was taken in my installation. In particular thanks to a large piece of black leather that had been placed on the table and on which I could freely express myself.
This also changes the context: visitors no longer cross a simple store with products but a real creative space. The customer is Transposed in the middle of the markers, brushes and tubes of paints arranged in front of him. Indeed, he could almost have the impression of tea pouring a workshop.
Artistic Leather Art : more and more requests from Montblanc
At this time, we are almost 2 years after my first projects with the brand. Projects that are becoming more and more recurrent and in different areas of the world. The collaboration intensifies and strengthens over time and my interlocutors trust me more and more. I have fewer and fewer constraints and they let me express myself almost freely, which is very appreciable. I also know the brand and its customers better and better, the types of leather of its products.